Service from Aqua Spas doesn't end after you purchase your hot tub. We are here for our customers for the entirety of spa ownership. We offer customer assistance, service and repair, maintenance options, parts department, and water care help. Because we believe that quality customer care never ends, we are here for you before, during, and after the purchase of your spa!
Owners Manuals
Your owner's manual will help answer many of your common questions and help guide you in enjoying and taking care of your spa. You must keep your owners manual accessible and refer to it to keep your hot tub in good working order. Aqua Spas offers links to owners manuals for all of the hot tubs and swim spas we sell for free to download below. You'll see manuals for 2012 through 2021 models. Click on the toggle to view all manuals for that year.
If your hot tub or swim spa is an earlier model, or if for some reason you can't find your manual here, click on this link to download it directly from the Master Spas website: https://www.masterspas.com/hot-tub-owners-manuals/
Hot tubs require some maintenance to ensure the continued functionality and enjoyment of the product. Once we deliver and install your spa, you'll need to perform some initial tasks before you can relax in the water. Our delivery team is there to help get you started and answer initial questions you may have. Our Spa Care Guide you should receive upon delivery can help guide you effortlessly through regular chemical maintenance; please refer to your owner's manual for additional information and care of your spa.
To download your Spa Care Guide from Master Spas, click here or click on the image.
Want to learn more? Visit Master Spas YouTube page with many videos to help you learn more about how to care for and use your spa.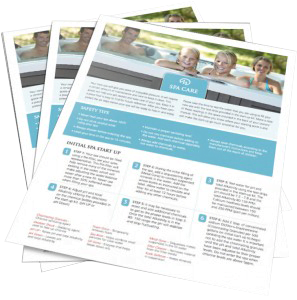 Warranty Info
Have you misplaced your warranty? Not a problem. Download your product's warranty from one of the Adobe PDF links below. If you don't see your model's warranty listed, let us know, and we'll be happy to locate it for you.